Roadmapping Energy Policy with Research
Policymakers in the UK are increasingly reliant on academic research to make decisions that significantly impact society. When it comes to looking at the general public's future safety and environment, it makes sense to use scientific findings to direct the governing decisions. Internationally recognised researchers who make up the ERPE have contributed to shaping policy through their participation on panels or their publications and reports cited when lobbying for change. Below is a few examples of the influence that ERPE has in terms of impacting future legislation.
Policy and Innovation Group
Marine energy has significant challenges to overcome. Wave, tidal and wind turbines must be installed and operated in remote locations, where the water is deep, and the ocean, weather, and tides are highly energetic. Cost-effective electricity, renewable energy devices must be inexpensive to manufacture, simple to install, reliable, easy to service and produce large quantities of energy. Achieving all of this within the hostile marine environment is quite a challenge. However, the prize is significant, providing not only clean energy but effective employment and export opportunities.
The Policy and Innovation Research Group analyses the dynamics of innovation in offshore renewable energy systems. Specialising in technology assessment and the relationships between policy, investment and innovation, we provide trusted analysis and advice throughout a network of academic research, industry and policy stakeholders.​ ERPE research applies a range of quantitative and qualitative research tools and methods, including optimisation-based market modelling, equilibrium modelling, road mapping, innovation systems, scenario analysis, transitions management and agent-based modelling.
These tools allow us to address the economic and policy aspects of energy systems in larger inter-disciplinary research projects and advise our partners, including the Scottish and UK Governments and many private sector organisations.
The Supergen Offshore Renewable Energy (ORE) Hub
The UK is at the forefront of the development, adoption and export of Offshore Renewable Energy (ORE) technologies. If we are going to maintain that world-leading position, we need to continue spearhead research and innovation in ORE. The Offshore Renewable Energy (ORE) Hub vision is to bring together research that supports and accelerates the development of offshore wind and tidal technologies for society's benefit.
The hub will be central to the UK ORE community, bringing together shared skills and expertise, allowing the transfer of fundamental knowledge, shared learning, and interdisciplinary research resources whilst taking a whole systems approach. Differing maturities of wave, tidal and OW allow rapid advances towards deployment and societal benefit through timely sharing of expertise, strategies and best practice between the three sectors.
Each Supergen ORE Hub partner institution is represented on our Management Board by a Co-director who are academic experts across a range of engineering specialities - be it in offshore wind, wave or tidal technology. Together, they bring an essential perspective, enabling us to provide research leadership into Offshore Renewable Energy. The ERPE academic on this board is Henry Jeffrey. He was also seconded to the Scottish Government to define the technology and industry stage gates and metrics on the innovation chain for ocean energy technologies that guide and evaluate national and EU research investments. His research analyses the dynamics of innovation in offshore renewable energy systems and the broad impact on UK energy policy.
TeraWatt: Powering Ethical Marine Developments
Terawatt is a three-year Scottish-based project which aims to minimise the environmental impact of marine renewable energy projects.
Scotland's coastline offers excellent potential for wave and tidal energy production, and Scotland is currently at the forefront of the advancement of marine renewable technologies and ocean energy exploitation. Critical to both prototype testing and commercial projects' success will be avoiding of any developments that might harm our marine eco-systems.
The regulatory authorities must understand how many multi-site developments collectively impact the physical and biological processes over a wider region, both concerning their cumulative effects and marine planning responsibilities. The careful and informed selection of sites allows the optimum exploitation of available wave and tidal energy whilst minimising any potential environmental impacts.
TeraWatt offers decision-makers specific, targeted predictions of the impact individual developments may have and where they should be allowed. The project uses the Pentland Firth and the waters around Orkney to develop models that will help predict wave and tidal energy extraction's physical and ecological consequences.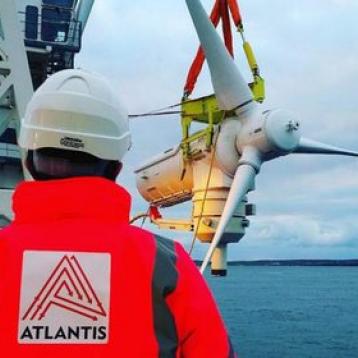 Clear Water Image - Courtesy of Atlantis
Energy Trilema Diagram