Facilitating the Emergence of Robotic and Artificial Intelligence
Robots that can learn, adapt and take decisions will revolutionise our economy and society over the next 20 years. Through the Edinburgh Centre of Robotics, the ERPE work on various research areas in the field of Robotics and Autonomous systems, with a focus on safety and safe interaction between robots, people and their environments.
Pushing forward in robotics and artificial intelligence, we produce an innovative pipeline from academic research to global markets. Focussing on application areas including manufacturing, assistive and medical robots, offshore energy, environmental monitoring, search and rescue, defence, and support for the ageing population, amounting to a market space worth billions globally.
Offshore Robotics for Certification of Assets (ORCA) Hub: Revolutionising Asset Integrity Management in the offshore energy sector
The ORCA Hub is a multimillion-pound programme aimed at addressing the offshore energy industry's vision for a completely autonomous offshore energy field.
Launched in October 2017, ORCA Hub is part of the government's £93m R&D funding on "Robotics and AI for Extreme Environments" through the Industry Strategic Challenge Fund (ISCF). The fund is delivered by UK Research and Innovation, and managed by EPSRC.
Led by the Edinburgh Centre for Robotics ORCA Hub brings together internationally leading experts with over 30 industry partners to create a multi-disciplinary consortium with unique expertise in:
Subsea, ground and aerial robotics
Human-machine Interaction
Innovative sensors for Non Destructive Evaluation and low-cost sensor networks
Asset management and certification
SPRING: Socially Pertinent Robots in Gerontological Healthcare
SPRING, a four-year project funded by Horizon2020, is to develop Socially Assistive Robots (SARs) with the capacity to perform multi-person interactions and open domain social conversation for the first time in a healthcare setting. The work builds on the success on our Amazon Alexa Prize conversational AI system 'Alana'.
The project focuses on supporting elderly patients by carefully coupling scientific findings and user-focussed technological developments to bring social robots into gerontological healthcare.
Recently, social robots have been introduced into many public spaces ranging from museums and malls to hospitals and retirement homes. The robots have been able to provide both information and entertainment, but the technology has faced challenges.
Limitations include the fact that both the hardware and supporting software is often designed for reactive, single-user interactions, leading to limited one-on-one conversations. As a result, the robots typically wait for commands or questions based on a limited set of scripted actions.
Professor Oliver Lemon, explains why SPRING is different:
"Research shows that the careful use of robots in group settings can have a positive impact on health, such as decreased stress and loneliness, and improved mood and sociability.

Healthcare practitioners have been supportive of the use of robots during the non-medical phases of time in hospital because social robots can help explain complex concepts to patients with limited medical knowledge."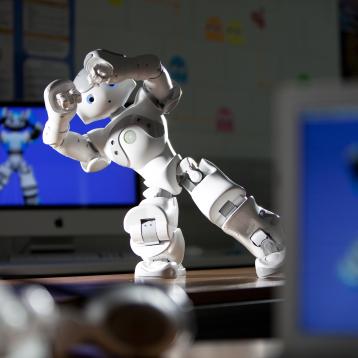 Edinburgh Centre of Robotics